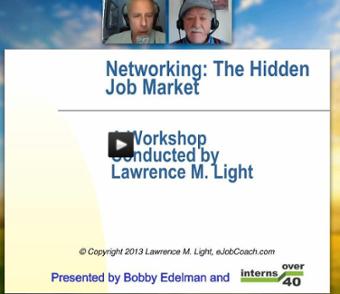 "Networking To Find 'Hidden' Jobs" eBook and Video Workshop
Combination 1 hr. Video and eBook completely demystifies successful networking, even for "shy" people. Get started today to find those "hidden" jobs with this "known-to-work" detailed presentation.
Product Description
Scared of Networking? Don't know what to do? Afraid you don't have the
skills required for it? This eBook makes it simple, shows you how many of my
clients experienced success with it. I've broken it down into simple, easy-to follow steps that anyone, even shy people, can use to get started and, once started,build a powerful network to find "hidden" jobs and information you'll need to get your next job.
Based on fifteen years' experience as a job coach, showing what actually worked in the real world. A step-by-step, easy-to-follow, detailed video workshop and eBook that contains everything you'll ever need. I'll show you just what worked for my clients as they began networking and help you become an expert at it.
Includes actual networking scenarios, what to do, proven techniques and tips. Written especially for the "do-it-yourself-er." Shows what works and how to do it, so you never have to "cold call." Covers everything you need to know about Networking.